CSS Menu Template by Css3Menu.com
We are trying to give you the whole 8-track experience here at Kate's Track Shack! So if you're looking for a player, we're here to help you out!
Unless otherwise stated, all of the players we are putting up have been refurbished and are priced accordingly. We will offer a 90 day warranty on all players.* If you have a problem with your player after you receive it, please let us know so we can send you a RA form to send back with the player.

Also, not all the players are going to look pristine and beautiful, but they all will be playable (again, unless otherwise stated). We'll try to clean them up and make them as beautiful as possible. But, unless the guy I spoke with last year has got his patent, I don't think they're making 8-track players anymore.
Here's what we have right now:

Panasonic Portables - You've heard of the Lee sisters - Homely and Ugly? Well, here are there 8-track counterparts. The 8-track players work great on both, but the radios are iffy at best. The belts have been replaced and the components cleaned. The one in the picture that has some white spots below the speaker has an antenna, but the tip is broken off. The other one has the bas for an antenna, but the rest of it is missing. If you don't care about the radio, these are great players. Power cords are not included, but for $5 more, we can supply one. - $25 ea.+ S/H w/o power cord and $30 ea.+ S/H w/power cord.

This is not an 8-track player, but a nice Realistic Stereo Cassette Tape Deck from 1990. It is in it's original box (a bit beat up), with original packaging & manual. Some of the features: Compact size fits almost anywhere, Dolby B noise reduction circuit, LED peak level meter, End-of-tape auto-stop protects cassettes, and records and plays normal, hi-bias and metal tapes. It plays good, but the right volume knob for record will not move. $25 + S/H

Car Players - We have a few in-dash and under dash car players as well as a 4-track car player for sale.

We've added a few CB radios as well for your vintage cars (or even your new cars!).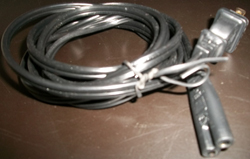 W e AC plugs for sale for portable players. These should work on most all portable players. Check the picture of the cord to make sure that your portable accepts this type of plug. $4.99 ea. + S/H


The players can be shipped parcel post or priority. The smaller players can probably fit in a medium or large flat rate box, and may be a little cheaper than standard post, but we'll give you both costs and you can decide how you want them shipped.
If you have any questions, please feel free to email us.
*Warranty will be void if the player is opened after we've shipped it out. Warranty only covers the parts/items replaced/repaired prior to shipping.