CSS Menu Template by Css3Menu.com
8-Track Player Repair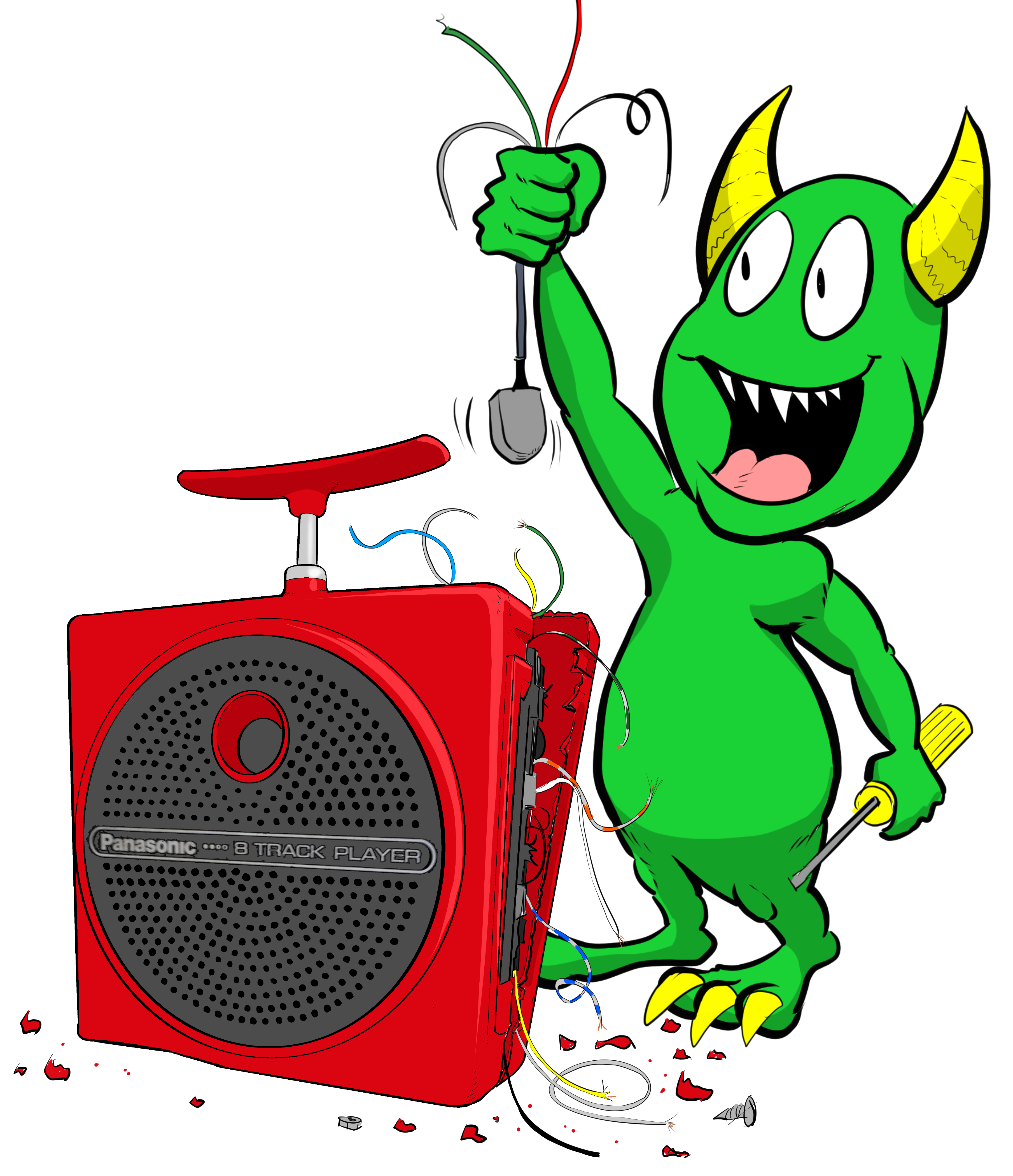 We can not stress enough how important it is to make sure your player(s) is well protected when you ship them to us!!!! Double boxing helps greatly, but even when you do that, make sure the inner box with your player is well protected!
From our customers -
If you guys ever need a reference, please have the customer get in touch with me. On a scale of 1-10, you guys get a 500. There is nothing about the entire process that could have been better. I was leery about sending a 1970 relic so far for repair. I am 10000% happy that i made the plunge. Thanks again, E

Got it yesterday. Been playing often since. Sounds great! Dynomite! Thank you both! John P

I am frankly blown away by your good service, excellent follow through and how quickly you got the repairs done. So first and foremost... THANK YOU or as my grandfather used to say "Much Obliged"! I'm honestly still amazed how fast you guys were able to fix my units. Very pleased about that and the great service you give your customers. James B
These guys are GREAT. They fixed my Pioneer HR-100 8 Track that 2 other places screwed it up worse than when I brought it to them. Their prices are fair and they communicate with you every step. You can't go wrong here. Max P
************************************************************************************************************************************************* The Basic Bench Fee - $70*(**) + s/h back to you.
$70 bench fee. This includes:
Overall condition review (playability, sound quality, machine condition)
Head cleaning and alignment***
New belt
Potentiometer cleaning (take care of scratchy controls)
Roughen up your capstan. When possible we will sandblast the capstan
This service does not include cleaning the outside of your player. If you send us a player that's dirty on the outside, you'll get a player back that's dirty on the outside. ;)
**Cassette Players. We can work on cassette players or 8-track players with cassettes, but they are a lot more complicated and will cost a bit more to check out. The minimum to check out a cassette deck is $100. For a combination 8-track/cassette player, the minimum is $150.
*If you send us a player and tell us that there is an issue with the outputs not working for example, then that is what will will be looking at. After checking out the issue(s) we will contact you with an estimate for repairs. Additionally, quadraphonic players have more components that most regular stereo players so there may be additional costs due to how complicated these players can be and parts availability.
All repairs come with a 30 day warranty.** We are not responsible for tape jams or tape failures. You need to make sure your tapes have been tuned-up (new metallic splice/pad) before playing them in any player. It is very important that you check your player when you first get it back to make sure there are not issues. If there is an issue, contact us immediately so that we can figure out what's going on. sometimes it's something that can easily be fixed without shipping the player back. If you can send a short video of the issue that would be very helpful in determining the issue. Warranty only covers items repaired.
The customer is responsible for paying for all agreeded upon repair costs, including the bench fee & return s/h. If the customers player is not repairable, customer is still responsible for all agreed repair costs, including the bench fee & return s/h. When possible, we will work with the customer to find a replacement player and will work with customer regarding costs, return including s/h.
We will be glad to look at cassette players, but they are very difficult to work with and we do not guarantee or warrant these players due to parts availability and the fragility of their mechanisms. .
If you are going to send us your player, please read the following information about packing your player for shipping to us. You can see pics of poorly wrapped players vs well packed players here.
We cannot over stress the importance of packaging your player(s) up well and putting insurance on the package. If you take it to a facility that does packing/shipping, make sure that they wrap your item with lots of packing. Use lots and lots of large bubble wrap and not peanuts or air cushion bags. If your player has knobs or switches on the front that might be damaged, add extra wrap around them. Roll up some bubble wrap and put it over them or put an egg carton lid over it and wrap with bubble wrap. Put enough bubble wrap that you can't see your player anymore. Usually, several layers of the large bubble wrap lengthwise and several layers widthwise will do it. You don't want any movement in the box. We do recommend that you double box the player (player still needs to be well packed with bubble wrap). If this is your pride and joy then treat it like it is! We can not be responsible if your item is damaged due to poor packaging.
We want to stress how important it is to keep your packaging, especially if you're purchasing a player, or large item, in case there is damage. If insurance is put on your package (all players have at least $100 worth of insurance - generally whatever your charge for the repairs is what we put for the insurance amount - if you want more than that, please let us know so we can adjust your total), and there is damage, we will need pics of the damaged item as well as the box and packing. The post office or company that the claim is filed with will need this as proof of damage and to determine if the claim will be paid. If the claim is paid, we will usually get a check. We will cash it and send the funds to you to use to have the player/item sent back to us for repair and cover the costs of the repair & shipping back to you. Or, you have the option to pocket the claim amount and do nothing. AGAIN, IF YOU WANT MORE THAN THE AMOUNT OF INSURANCE WE PUT ON YOUR PLAYERS, PLEASE LET US KNOW HOW MUCH YOU WANT IT TO BE SO WE CAN FIGURE YOUR TOTAL ACCORDINGLY.
If you drop off your player(s) at a facility like FedEx or UPS, PLEASE ask them not to use peanuts! They make a mess and can get into your player and cause problems. There will be an additional $5 charge per box that come with peanuts.
****Just a friendly FYI, on car players, you not need to send your knobs or faceplate.**** We would hate for them to get lost or damaged in shipping. Thanks!!!
We also have players up for sale that have had the basic tune-up done to them. Stock changes all the time.
Please contact us if you have any questions about player repair.
Address to send players to:
Kate's Track Shack
5611 Louise Way Dr.
Arlington, TX 76017
Also, be sure to put your contact information in with the player and list any issues your player may be having.
****There are no refunds on 8-track player repairs****
Note - The warranty will be voided if the player is opened by anyone other than us, after it has been returned to you. Warranty only covers items that have been repaired.
*We don't clean your player except for the internal mechanism. If more than one belt is required for you player, the first belt will be covered under the bench test charge of $70 and any additional belts will charged at our then current belt prices. Prices can differ depending on the rarety/size of the belt(s).
**The 30 days begins when you receive your player back. We put delivery confirmation on packages shipped so we have a record of when the player was delivered.
***There will be an additional charge for players with multiple heads and belts.