CSS Menu Template by Css3Menu.com
"Your One Stop Internet Home For Inexpensive 8-Tracks and Much More!"

Serving Our Valued Customers On The Internet Since 1998

Over 15 years in business!!!!

Kate's "8" Track Shack

Dan & Kathy Gibson - Just a small portion of the "Shack"

Back from vacation! We went up to Wisconin to the Dells area. We stayed at a nice cabin that had a big pond and access to the river just a short walk away. Couldn't swim will all the duckweed, but did manage to catch a few fish (probably the same ones!). The weather was beautiful with just one really big storm - filled the boat with water but it didn't sink since it was tied so tightly to the dock.
We went to an old fashioned county fair! Rode some rides until we were sick, ate lots of greasy food, looked at some cows and then watched a demolition derby! Dan has waited for 2 years to go back to see this demoltion derby. Girls didn't want to do it the last time we were here, but they knew it was important to him, so we went. It was great! One car caught on fire, parts flying everywhere, wheels falling off! After the car demoliton derbies, the columbine tractors went out it; first the little ones and then the big ones!
We also visited the deer farm. This is one of the girls favorite places to go. Getting to walk around the property and have deer follow you around and eat out of your hand. They have other cool critters, but they don't get to roam free like most of these deer do.
If you get the chance to visit southern Wisconsin, you should make a point to visit the House On The Rock. It is crazy! It takes 3-4 hours to walk through. Make sure to eat breakfast or lunch before you go! It has 3 sections and you don't want to miss any of them. If you like mechanical things, this is the place for you, although they have lots of other things there too.
The other two big highlights of our trip were to Circus World in Baraboo, WI and the Tommy Bartlett Water Show. We've been to both many times, but still enjoy them both because they aren't the same thing every time. At Circus World, we watch a show with acrobats, elephants, etc. We even took a ride on one of the elephants. And at the Tommy Bartlett Water Show, we enjoy watching the awesome skiers and the other death defying acts that they put on. But probably the most favorite thing we enjoy there is an old gentleman named Dieter Taoss. As his name my imply, he's german. He juggles, tells goofy jokes and makes you laugh the whole time he's on stage (10-15 mins.). His big thing that keeps you going, is he will say "If you like it, I'll do it again!"
We also went to a huge car show/swap meet! Our oldest daughter went with us and she had no idea of how much walking we do when we go to this thing! We saw lots of cool cars and bought a bunch of 8-track tapes and a couple of players. Some you'll be seeing on the new updated list!
Well... enough about vacation, it's time to get back to work!
Have a great summer! Stay safe and cool!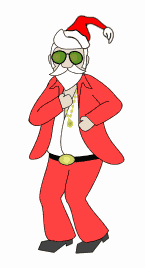 It's Christmas in July! We are going to be having an early Christmas sale! All of our large cases are on sale for $5 ea.! That's right, just $5 ea.! We have too many and need to make some room for other 8-track related items. At this price we will send you what we have available. There won't be any special requests for styles, colors, etc. The conditon of the cases varies. We won't sell any that are really ratty or don't have handles, etc.
If you buy them as they are, without any tapes, they will have to be shipped Priority or Parcel Post (or Standard, which I think is about the same thing). If you buy tapes as well, then we can ship both media mail.
Christmas tapes are also on sale! Buy 1 get 1 free!

We have some tapes that we need to go! These have not been tested and don't know if they work or not. I don't think there are any obviously broken tapes, but don't hold me to it. They are mostly gosspel, country western, easy listening and pop. There are about 50 or so tapes in two boxes. We're selling them for $.25 ea. + s/h. If you're looking for some cheap tapes or want some that you can practice repairing, then these are for you!

Hate to do this, but we will be raising the prices on the Win-Gib Revitalizer Foam pads. It's been quite a few years since we had to do this, but with the rising costs of materials, we felt it was necessary. We have tried to keep the increase as small as possible. Thanks for your understanding!

We just added some in-dash and under dash units this week so be sure to check them out here.


We have also added a few more repair items to the Shack so be sure to take a look here .Also just added AC power cords that will work with most portable players. You can check them out here.


We recently purchased some cool, and somewhat rare greeting cards from Rod McKuen. Each greeting card has a 33 1/3 record inside. These were done in 1976. You can also purchase them for $1.25 ea. + s/h. There are a limited number of names/sentiments. You can check out the list of names/sentiments here.



Here is an interview we did recently with a local tv station. We've done several interviews with Mike Cassetelluci. He's a great guy! We had a lot of fun doing it.


Just added a few new vintage items. They are not necessarily 8-track related, but very cool vintage items. We added some cool CB radios that you can see here and a Realistic Stereo Cassette Tape Deck that you can see here. We also just got in one of the cute little 2XL Robots. As soon as we have a chance to look it over, we'll be putting it up for sale. If you are looking for one, please let us know. We also got some tapes for it as well. In addition, we also got in a Music Machine player that we need to check out. It has the cassette and 8-track. If you're in to Karaoke and vintage, this will be one to be watching for.


Got this cool case in recently. What a great addition to any 8-track collection! It holds 10 tapes. It's seen a little wear, but in overall pretty good shape. Would make a great Christmas gift! Check it out here.



Just a friendly reminder that we are mainly an internet business and don't have a physical storefront per say. We try to answer all emails as quickly as possible but if we don't, we promise we will! We may just be doing things with our family. Weekends are especially busy for us so don't abandon hope that we aren't getting back to you.

Don't forget to check out our players, they're going fast!


Click here for info. on how to be notified when a new list or other info. is available.


We have lots of accessories and repair supplies to keep those 8-tracks, 4-tracks, etc. going for a long time to come. If you don't like to repair your own tapes, we offer that service.

If your car has an 8-track player you need to have one of our cool license plate frames! You can see what they look like on our accessories page (down at the bottom of the page).

If you have any questions, please email us.


If you are paying with PayPal, please make sure that the address you have on file with them is the correct address. If you've moved and haven't changed it or haven't given us your correct address, your package could be delayed. If it is sent back to us because of an incorrect address, there will be a charge for the return shipping from the post office as well as the original shipping costs.


Just a reminder! Each order must be paid for separately! Also, if you place an order for tapes and then decide you don't want them, please let us know so we can put them back on the list. There may be someone else wanting the tapes you don't want.
Thanks for your understanding!!!



We will be glad to try and fill special orders or search for tapes for you, but there will be an additional charge added for this service. Also, please be patient as there are thousands of tapes to look through and we get tapes in all the time!
Thanks!



Credit/Debit Cards
We now accept credit/debit cards as well as PayPal. Please see our ordering info. page for more information.

Please see How To Order for further options.

***NEW*** You may now pay using Quick Pay through J.P. Morgan "Chase" Bank. Funds are sent electronically at no charge. You may pay this way whether you are a Chase customer or not.

Also, if you have a Wells Fargo or Bank of America account, you can pay directly as well.

If you have any questions, please email us.

Thanks again!!!!!!! Dan & Kathy


Gift Certificates make great gift for those hard to find for friends/loved ones. Who doesn't enjoy getting a gift anytime of the year!

Free Shipping on Gift Certificates $25 or more.


8-Track Repair Kits

For those who like to fix their own 8-track tapes, we offer several fix-it yourself kits.







We're looking for 8 track molds (not the plastic shells, but molds used to make them) or other 8-track related equipment. If you have anything or know of anyone that does, please email us. Thanks!





8tracks radio is a free player from Google Play, Apple's App Store and the Window Store. Whatever your music tastes, you can find it here. Click on the icon below to take go to their web page. Login or sign up and then do a search for k8track. When you get to our mix page, go down on the left side and click on the logo under "Mixes by k8track." Enjoy listening to some of the songs we enjoy on 8-track while you're browsing the web site. To go back to the web site, click on the "by k8track" (for some reason the link for Kate's Track Shack doesn't seem to work) in the bottom right corner. You can then see the web link at the top left. Let us know what you think.




Eight Track Stereo by Blue Boxen, LLC is a very cool player for the iPhone or iPad! It looks like an 8-track player and your music looks like an 8-track cart. I think it costs something like $4.99, but well worth it just for the cool factor! It's not available for Androids. Another app for the iPhone is RetroTunes by Maverick Software LLC. Can't remember how much it was. It has an LP that you can turn the "hiss" up on, a boom box, cassette and yes, an 8-track player. Not to bad, but needs a little updating.




All contents of this web site copyrighted© 1998 Daniel and Kathy Gibson